MYOPIA (Akron)
by Mark Mothersbaugh
BLUE VINYL

Catalog #: MUTMUZ112
Label: MutMuz
Release Date: 2016
Country: USA

Tracklist:

A1 Where Ya Gonna Go
A2 Babylognia Sandwich
A3 Fologijo
B1 One Bad Ape
B2 Dooperilia
B3 My Home Town

Limited edition of 300 color vinyl 12" as part of Mark Mothersbaugh's "Myopia" art exhibit at the Akron Art Museum 2016. Each 12" is a unique color of vinyl. (This one is Blue)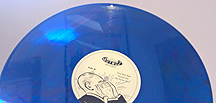 This particular copy is from the Akron Art Museum store (see price sticker on back cover).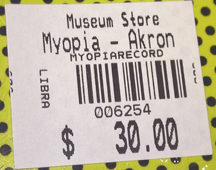 Donated to the archives by Akron Art Museum.