The Gay Nineties Olde Tyme Music
by Mark Ryden & Guests
featuring Mark Mothersbaugh

Catalog #: PFAE113
Label: Porterhouse Records
Release Date: 2013
Country: USA
Ltd Ed: #129/200 AP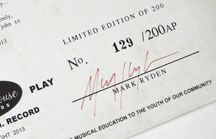 This signed and stamp numbered, limited edition of 200 record in Pink/Red Marbled vinyl was released in conjunction with Mark Ryden's "The Gay Nineties West" at the Kohn Gallery in Los Angeles, California. There is an "AP" after the number 200 in the edition.

There is also a numbered edition of 999 in Red Translucent vinyl.
The record has been pressed into 180 gram translucent vinyl and features original covers of the song "Daisy Bell (Bicycle Built for Two)."

All profits from this record will be donated to "Little Kids Rock," a nonprofit that revitalizes music education in disadvantaged schools.

SEE VINYL
SEE LABEL