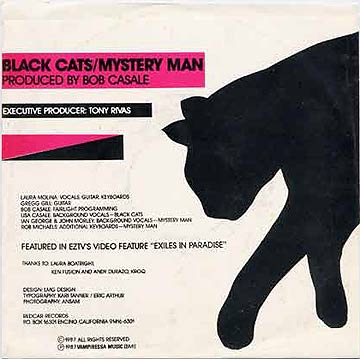 Laura Molina - "Black Cats"

Side A: Black Cats
Side B: Mystery Man

Catalog #: none
Label: RedCar Records
Release Date: 1987
Country: USA

Bob Casale produced this 7" and did the Fairlight programming for friend, Laura Molina. Lisa Casale sang back up vocals. This 7" was probably only available in Los Angeles. A rare item, indeed.

To get your own copy of Laura Molina's Black Cats 7", please contact her via the link to her Web site below. Be sure to check out the "Tiger Lily" page for a photo of Bob2:



---
Front and back cover pictured to the left.