This Is The DEVO BOX - SET of 7 CDs
JAPAN IMPORT

Catalog #: WPCR-12955/61
Label: Warner Bros
Release Date: 2008
Country: JAPAN

7 LPs on CD re-packaged with mini replicas of all the LP covers, inserts, etc. Remastered in 2008!

Here's a photo of the entire set's contents: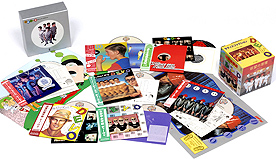 Thanks to Noriko Terao for this donation!