DEVOtional 2018
Fri. JULY 27 & Sat. JULY 28
at Beachland Ballroom in Cleveland, Ohio

Friday 27th at Beachland Tavern:

6pm - Doors Open
7pm - 3 O'clock Rock Showcase (from CA)
8: 15pm - Fantastic Plastics (from NY)
9:30pm - Devomatix presents De-Voke (Devolved Karoake)

Saturday 28th at Beachland Ballroom:

2pm - Doors Open
3pm - Mercurochrome feat. Al Mothersbaugh & Poopy Necroponde (from OH)
4:30pm - Double Helix (w/ Francis Lau) (from CA)
5:30pm – Jerry Casale of DEVO: Autographs/Meet & Greet session
6:00pm - Jerry Casale of DEVO w/ Bobbie Watson & Susan Aylward: Q&A on the DEVO Book!
7:00pm - Spudboys (from USA)
8:30pm - DEVO-tion (from Germany)
10:00pm - DEVOmatix (from GA)

+ 5K DEVO Run/Walk RACE
Sunday Morning JULY 29 in Akron
Register for 5K DEVO Race!

-----------------------------------
Buy DEVOtional Tickets!
First 100 tix buyers get a highly devolved ltd. ed. FREE GIFT:
Turkey Monkey Piggy Bank!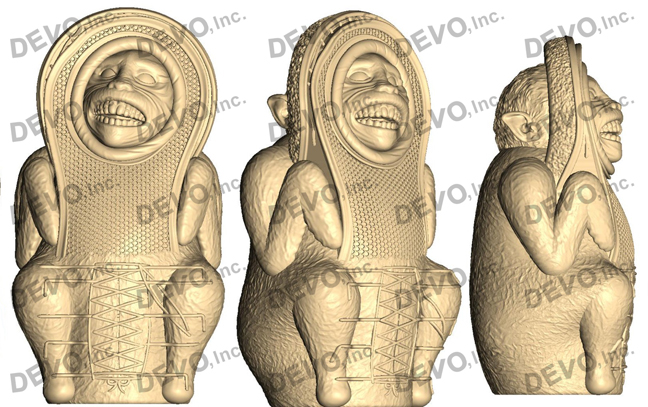 (digital sculpt image)
Super detailed plastic coin bank in the image of DEVO's Turkey Monkey character.
Drop coins into his mouth and retrieve from his derriere. Save up for that big ice cream cone in the sky!
Only 100 Coin Banks will be made available to the public! BUY TIX NOW!
This gift made possible by Middle Of Beyond.
More collaborations between DEVO and MOB coming soon!
-----------------------------------

Pre-Order DEVOtional 2018 T-Shirts
(ALL PRE-ORDERS GET FREE "TOIL IS STUPID" STICKER!)

mockup of tee design
actual photo coming soon!

T-SHIRT ORDER OPTIONS:

1. Pre-Order Official DEVOtional 2018 Tee


(pick up at Cleveland event):



2. Pre-Order to be shipped in USA:





3. Pre-Order to be shipped outside USA:





ALL PRE-ORDERS

RECEIVE A FREE
TOIL IS STUPID STICKER

(9" x 2.5")






SHIRTS WILL SHIP IN JULY/AUGUST