Our 20th Anniversary Event!
Due to the same reasons all other events are being affected this year, DEVOtional 2020 has been rescheduled for November 13th & 14th
at Beachland Ballroom in Cleveland, OH.
Here's a message from Nick Ciasullo, DEVOtional event manager:
***********************
"Fellow DEVOtees: As of today, the state of Ohio has still not given any indication as to whether or not concerts will be allowed in July, or what will be the maximum gathering limit. Additionally, every indicator suggests coronavirus will still be very aggressively infecting people. After consulting with a lung specialist, I am convinced the safest course of action is to push the event back. The NEW dates for DEVOtional 2020 are Nov. 13th & 14th.
If you have purchased a ticket, you need do nothing. Your ticket will be waiting for you at the door.
If you require a refund, please request one via email.
For the lucky ticket holders receiving records or buttons (those included in the 1st 150 tix buyers), they will be distributed at event. If you can't attend but still want your gift, please contact me immediately after the event regarding shipping.
Thank you in advance for your patience and understanding."
DEVOtionally Yours,
Nick Ciasullo/DEVOtional 2020

***********************

It's been 2 decades since the first DEVOtional event way back in the year 2000. A room of a few dozen people who gathered to discuss & wallow in their common love of the band DEVO. That number has increased to hundreds of people. This year we celebrate all this and expect it to be our best event yet... judging from the continual increase in our ticket sales & attendance over the past few years.

A list of confirmed bands & guests thus far is below. As a bonus, we'll be screening the fantastic

GOLF CHANNEL

30 minute feature on DEVO & Chi Chi, starring Gerald V. Casale, Mark Mothersbaugh, and Chi Chi Rodriguez. See it on a big screen! This will happen early on Saturday so be sure to get there when doors open.

Special guest announcements coming soon! Keep checking this page over the coming weeks and be sure to sign up on the DEVO mailing list at ClubDevo.com to be kept in the loop.

Our official event tee this year pays tribute to the very first special guest, Robert Mothersbaugh Sr. aka

General Boy

. He went above & beyond when he agreed to attend our small gathering of a few dozen spuds way back in 2000, and his presence added so much & made for some fond memories. Without General Boy, that very first DEVOtional wouldn't have been so special.



**5K DEVO 2020 UPDATE**


It's going to happen as a world wide VIRTUAL event! Full details at 5KDEVO.com!

Register NOW!



Now for the

BIG NEWS

... scroll down to see what the coveted very limited edition door prize for the 1st 100 ticket buyers will be!
BUY TICKETS HERE
------------------------------------------------------------------------
DEVOtional 2020

at Beachland Ballroom

Cleveland, Ohio



Fri. 13th - Beachland Tavern
Sat. 14th - Beachland Ballroom
BANDS CONFIRMED SO FAR:

DETENTION (Akron, OH)
FANTASTIC PLASTICS (NYC)
ERIC NASSAU (Columbus, OH)
HAWK BABY (Cleveland, OH)
SPUDBOYS (from all over the USA)
JIMMY PSYCHO EXPERIMENT (Dayton, OH)
DEVOMATIX (Atlanta, GA)
FIGHT MILK (Redmond, WA)
MASSIVE HOTDOG RECALL (Kent, OH) w/ Al Mothersbaugh
NEW DEVOLUTION (Santiago, Chile)

PLUS: DEVO music throughout both days by DJ XEROX (from NYC's Copycat Cover Song Night)

(ALL BANDS SUBJECT TO CHANGE)
-----------------------------------

DEVOtional 2020 Tickets
(On Sale NOW!! BUY HERE)


The First 100 ticket buyers get this limited edition

FREE GIFT

!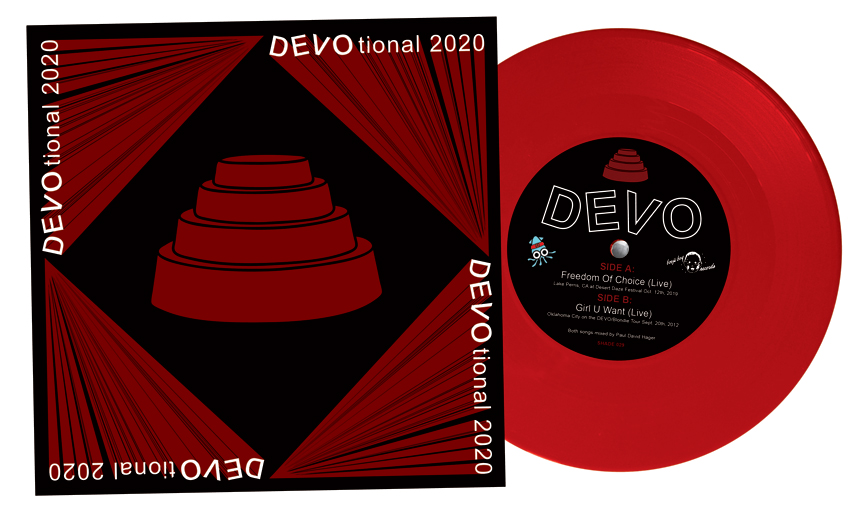 FORMOSA PUNK RECORDS in Japan PRESENTS:



7" Red Vinyl Single featuring 2 live DEVO songs recorded in 2012 & 2019.



Side A: FREEDOM OF CHOICE (Live in CA at Desert Daze Festival 2019)
Side B: GIRL U WANT (Live in Oklahoma City in 2012)

Hand-numbered screen printed covers.


Only 100 Red Vinyl versions will be pressed!


Those will be given to the 1st 100 ticket buyers at the event.

More details to be announced at DEVOtional 2020.

(Thanks to Screen Arts Florida for printing the 7" covers!)
-----------------------------------

DEVOtional 2020 T-Shirts
PRE-ORDER NOW!

We will NOT be able to reprint these after the event,
so pre-ordering is important to make sure you get your size!
(New event date will eventually be updated on shirt graphics)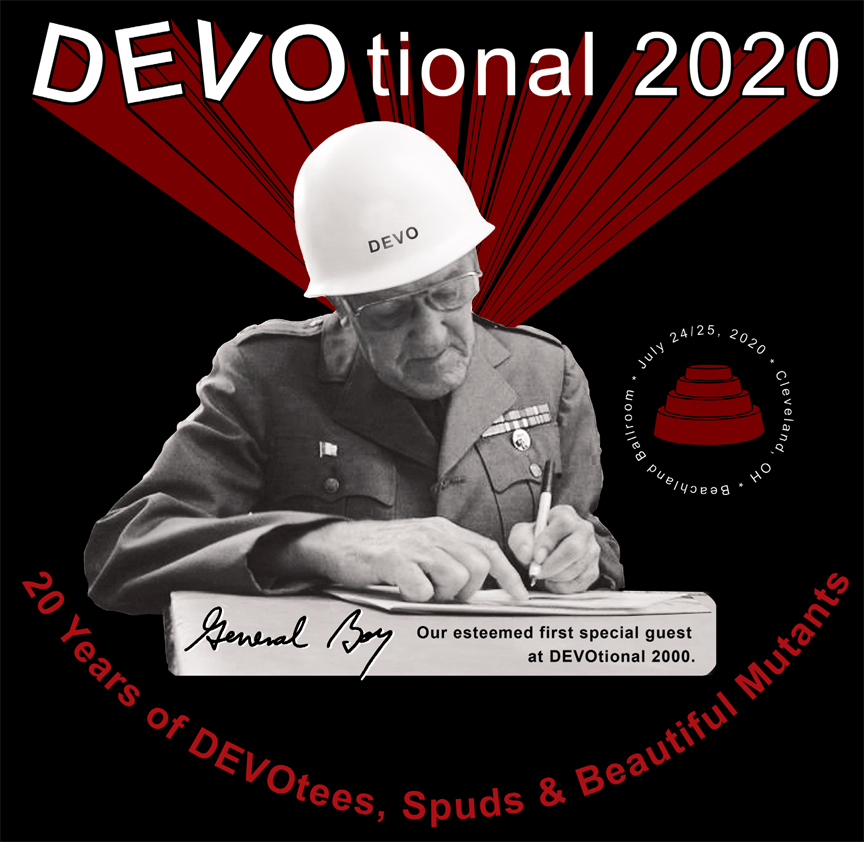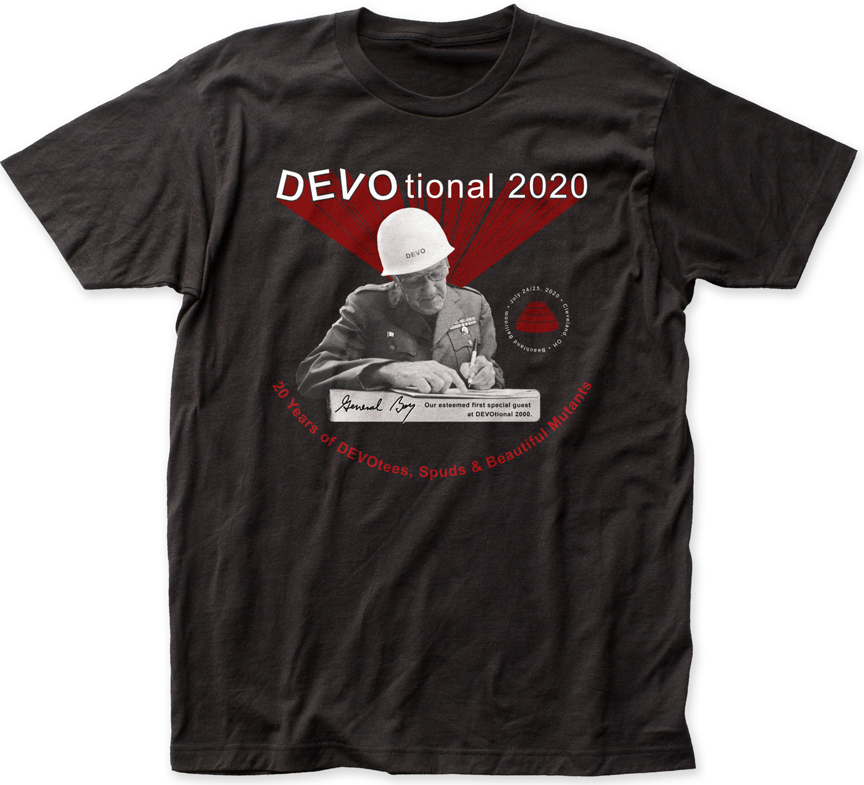 SCREENPRINTED INK ON 100% COTTON TEES

T-SHIRT PRE-ORDER LINKS:

Pick Up At Event:

S/M/L/XL - $20:--------------



XXL - $25

--------------



3XL - $30

--------------

4XL - $35


Mailed in USA:

S/M/L/XL - $25:--------------

XXL - $30--------------

3XL - $35--------------


Mailed outside USA:
S/M/L/XL - $45:--------------

XXL - $50--------------

3XL - $55--------------

4XL - $60
BIG THANKS TO OUR SPONSORS THIS YEAR:
Two hotels that most spuds are staying at this year:
Courtyard Marriot Cleveland Willoughby
35103 Maplegrove Rd., Willoughby, OH
OFFERING A GROUP RATE FOR DEVOTIONAL ATTENDEES!
Start Date: Thursday, November 12, 2020
End Date: Sunday, November 15, 2020
Last Day to Book: October 12, 2020
BOOK A ROOM AT MARRIOT
USING THE DEVOTIONAL GROUP RATE
($149 per night)
------------------------------------------------------
and right across the street from Marriot:
Motel 6 Cleveland-Willoughby
35110 Maplegrove Rd., Willoughby, OH
(no group rate at Motel 6)