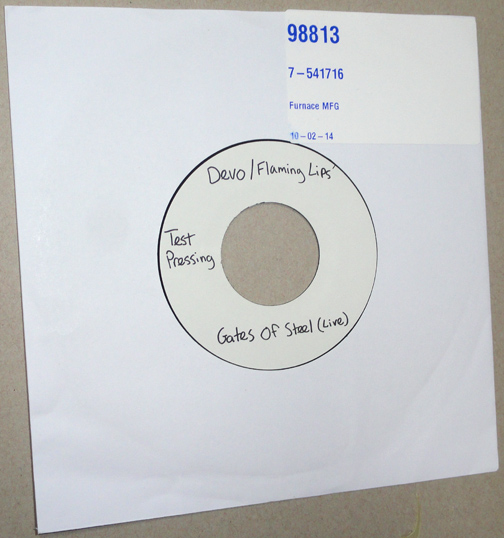 RSD 2014
Split 7" Devo & The Flaming Lips
TEST PRESSING

Record Store Day release 2014 - Only available in record stores.
Warner Bros Records release.

Side A: DEVO: Gates Of Steel (Live)
Side B: Flaming Lips: Gates Of Steel

Catalog #: 98813/7-541716
Label: WBR/Furnace
Release Date: 2014
Country: USA

By Furnace MFG / Warner Bros

See Back

Info on RSD release:

DEVO/THE FLAMING LIPS
GATES OF STEEL
SINGLE-POCKET JACKET, REGULAR-WEIGHT SILVER VINYL 7"
LIMITED TO 7,500 COPIES
Part of the WMG's Side By Side series. Includes Devo's "Gates Of Steel" from the original DEV-O Live EP and a previously unreleased cover by The Flaming Lips all on gorgeous silver vinyl!