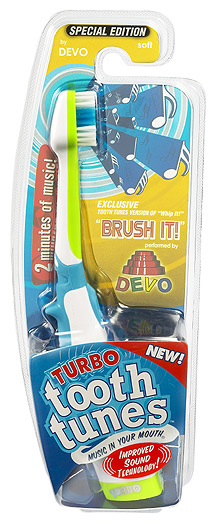 Hasbro presents:
TURBO TOOTH TUNES - April 2008
featuring a new D E V O song "BRUSH-IT"
(a devolved version of "Whip It")

ATTN DEVOTEES:
This is the ONLY way you can get this new DEVO song!

From the Hasbro site:

"Brush 'em good" – and encourage better brushing habits! – with this exciting toothbrush that gets you brushing with Devo's tongue-in-cheek version of their groundbreaking song "Whip It!"

Turbo-charged with improved sound technology, this cool toothbrush sends sound vibrations streaming from the bristles through your teeth – so you can actually hear music inside your head! Just press the button, wait for the beep and brush away! To increase the volume, simply increase your brushing pressure!

If you brush well, you get great sound, and you'll actually hear two full minutes of the song "Brush It!" that was written and performed exclusively for TOOTH TUNES by Devo!

Packaging features Energy Dome Illustration by KRK Ryden.
SEE BACK OF PACKAGING
SEE DETAIL OF TOOTHBRUSH

GET MORE INFO AT HASBRO'S SITE