DEVOtional 2019 Beachland Ballroom Cleveland

Fri. 26th - Beachland Tavern
Sat. 27th - Beachland Ballroom


Robert Mothersbaugh


BOB 1

/

DEVO

DEVO's esteemed lead guitarist since the beginning. Bob will be unveiling the prototype for his new DEVO Spud/Cloud Guitar by Eastwood Guitars!
David Kendrick


/

DEVO, etc.



DEVO's drummer for Total DEVO & Smooth Noodle Maps plus other projects & shows throughout the years. David is consistantly involved in multiple music & art projects of his own.

Delaney Jae
/ Futurismo, Inc.



Futurismo has released a few DEVO albums over the years, and will be discussing the most recent re-issues, Total DEVO & Smooth Noodle Maps.

Rocky Schenck
/ Video Director & Photographer



Included in his lengthy list of creative credits, Rocky was photographer & video director with DEVO during the Total DEVO & Smooth Noodle Maps eras.
Friday 26th at Beachland Tavern:

6pm - Doors Open
7pm - Jimmy Psycho Experiment (Los Angeles, CA)
8:15 pm - Eric Nassau (Columbus, OH)
9:30 pm - Lt. Dance (Columbus, OH)

Saturday 27th at Beachland Ballroom:

2pm - Doors Open
2:30pm - Fight Milk (Redmond, WA) w/ Tavi from Finland
4:15pm - HE himself (Lexington, SC)
5:45pm - The Gothees (Pittsburgh, PA)
6:45pm - David Kendrick, Delaney Jae, Rocky Schenck
Q&A: DEVO's "Total Devo" & "Smooth Noodle Maps" albums.
8:00pm - Bob 1 Cloud Guitar unveiling / Autographs & Socializing
+ Post Post Modern Man Video 'Behind The Scenes' Film by Rocky Schenck
8:15pm - Raffle (BIG PRIZES this year!)
8:30pm - Mutant Brass Band (Akron, OH)
9:30pm - DEVOmatix (from Atlanta, GA)

SCHEDULE SUBJECT TO CHANGE

+ 5K DEVO Run/Walk RACE
July 28 - Downtown Akron / Sunday Morning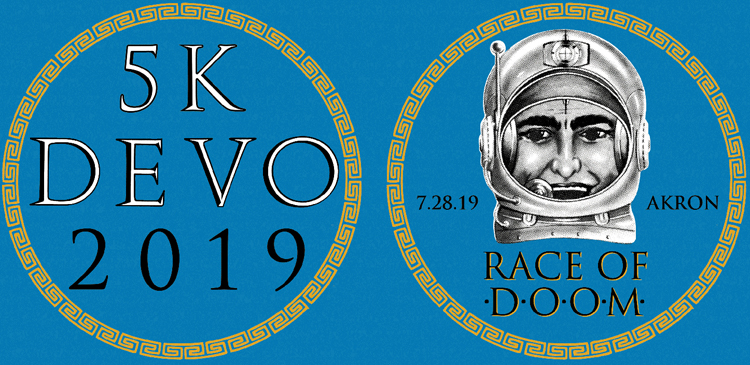 -----------------------------------
DEVOtional Tickets
(sales closed)

First 100 ticket buyers get a coveted limited edition FREE GIFT!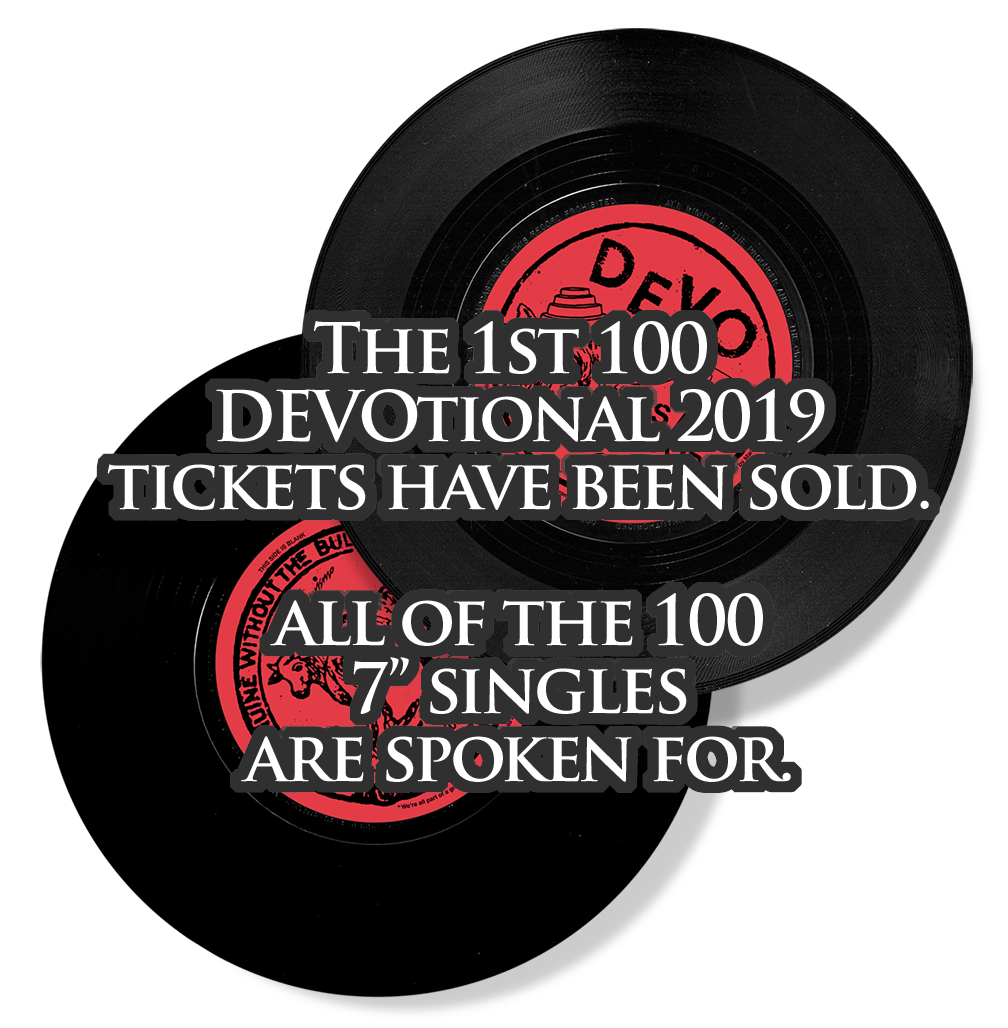 Brought to you in part by Futurismo Inc.

We're happy to announce this years FREE GIFT
to the first 100 DEVOtional ticket buyers.

Ltd. Ed. Hand-Numbered Single-Sided 7" Vinyl of DEVO performing "It's All Good" as The Big Dirty Farmers. An obscure song written by Mark Mothersbaugh & available for a very brief time as a digital download on the first ClubDevo.com site back in 2000. Never released on any physical media until now. Pressed on pure BLACK vinyl. Only 100 of these singles will be numbered & available to the public! There are no plans to release this in any other form in the future.

-----------------------------------
DEVOtional 2019 T-Shirts
PRE-ORDERS CLOSED