DEVOtional 2022 is going to be spectacular! The best yet??

We are VERY HAPPY to announce MARK MOTHERSBAUGH of DEVO as a special guest this year! The first time he has been able to attend in the 20+ years since DEVOtional first started. Mark also helped create the art for this years official EVENT T-SHIRT!

OH, wait...there's MORE!! Amazing, but true...we also have GERALD V. CASALE of DEVO, DAVID KENDRICK of DEVO/SPARKS...and we've just announced STEVE BARTEK of OINGO BOINGO & ROD ROOTER (aka Michael Schwartz) of DEVO video fame!! (See Rod in action here). Never have we had this many top-notch guests at one DEVOtional!!
On top of that, our friends NEW DEVOLUTION will be traveling all the way from Santiago, Chile to perform for us in Ohio!

Unfortunately, there won't be a Sunday 5KDEVO race this year...but that means we can all sleep a little bit longer following the DEVOtional main event on Saturday. Rejoice!

Scroll down for EXCITING info regarding guests & bands!!
More info on door prizes, raffle prizes & more coming soon.


DON'T MISS THIS ONE!!
Buy Tix Now!

***********************
DEVOtional 2022 Weekend:

Fri. 16th / 6pm - Beachland Tavern
Sat. 17th / 2pm - Beachland Ballroom


SPECIAL GUESTS IN PERSON!


MARK MOTHERSBAUGH
(DEVO)


GERALD V. CASALE

(DEVO)

DAVID KENDRICK

(DEVO, SPARKS)


STEVE BARTEK
(OINGO BOINGO)

ROD "The Man" ROOTER

(of DEVO Video Fame)

OUR MOST HIGHLY DEVOLVED ROSTER OF GUESTS IN DEVOTIONAL HISTORY!

DON'T MISS THIS!!
BANDS CONFIRMED SO FAR:

New Devolution (from Santiago, Chile)
Detention (from Akron, OH)
Massive Hotdog Recall (from Kent, OH)
Weird Paul (from Pittsburgh, PA)
Fight Milk (from Redmond, WA)
Poopy Necroponde (from Cleveland, OH)
Akronauts (from Akron, OH)
Jimmy Psycho Experiment (from Los Angeles, CA)
Malcolm Tent (from Danbury, CT)
---------------------------------------------------
(Full schedule TBA)


The

First 100

ticket buyers will receive this limited edition

FREE GIFT

made possible by
GOLDEN ROBOT RECORDS:


Ltd. Edition

Beautiful World

7" Single!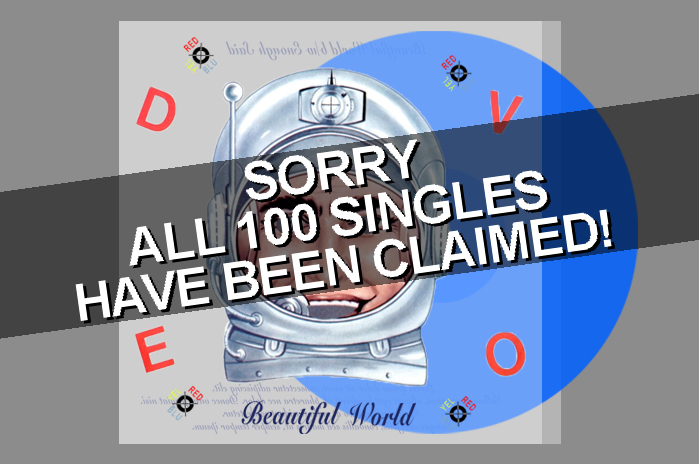 (graphic mockup shown above)
DEVO's redux of their classic "Beautiful World" single featuring real bass guitar & drums.


Originally recorded for the 2020 Australian movie
"Devolution: A Devo Theory"


Only

100 blue vinyl

numbered 7" singles will be made available to the public!

BUY TIX NOW!

These will be given to the 1st 100 ticket buyers at the event.

DEVOtional 2022 T-Shirts
SCREENPRINTED INK ON 100% COTTON TEES

Pre-ordering is important to make sure you get your size!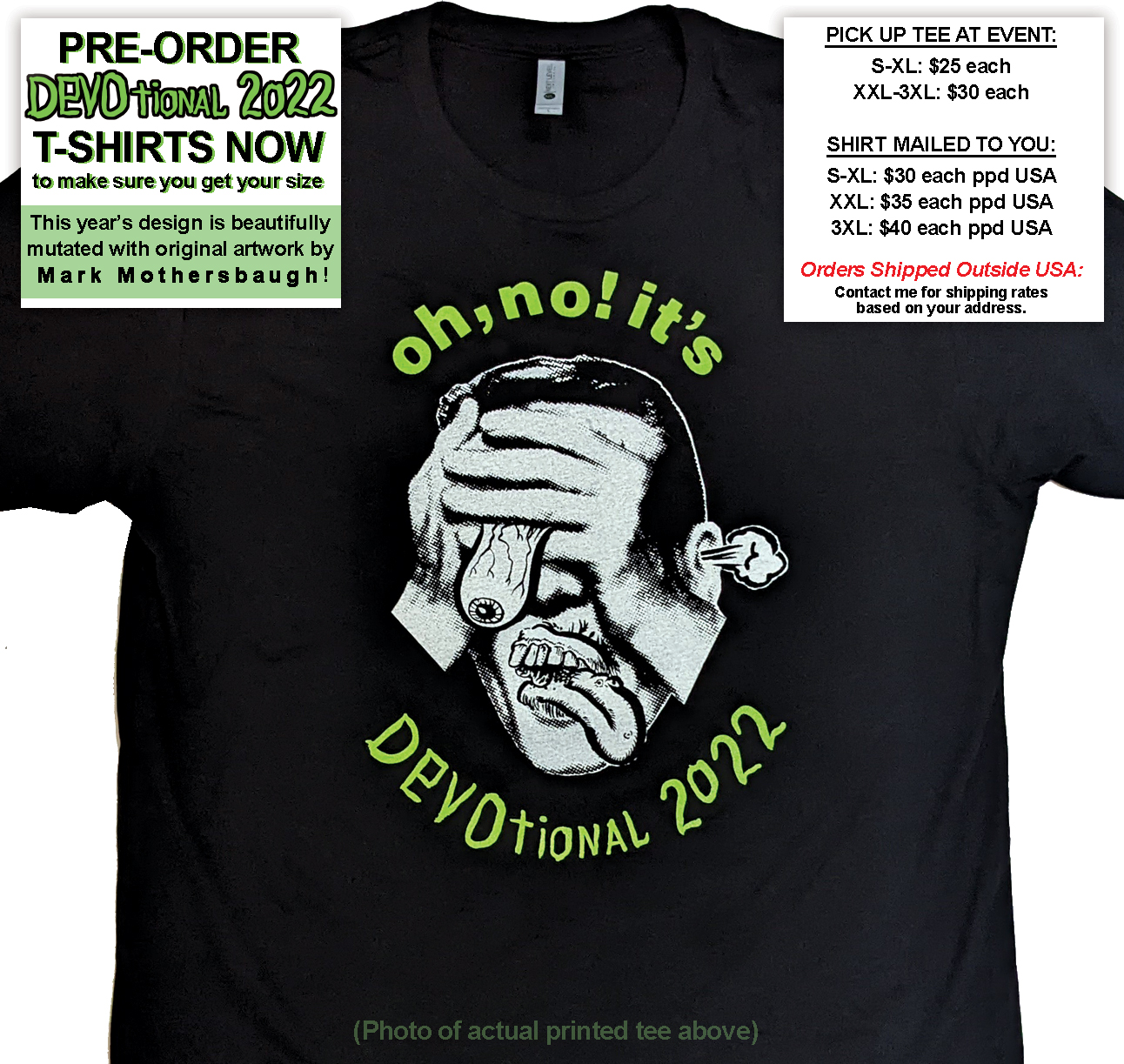 PICK UP AT EVENT:



$25-$30 ea.



SHIPPED IN USA:



$30-$40 ea.



SHIPPED OUTSIDE USA:



PLEASE CONTACT ME TO ORDER OUTSIDE USA.

SEND FULL MAILING ADDRESS & PHONE NUMBER. I WILL REPLY WITH COST INCLUDING SHIPPING BASED ON YOUR ADDRESS.



SHIRTS WILL SHIP JUST BEFORE OR SOON AFTER THE EVENT IN SEPTEMBER.
***********************
BIG THANKS TO OUR 2022 SPONSORS:




CLICK HERE

to see our
DEVOtional 2021 Event Report