Our 20th Anniversary Tribute Livestream!
Due to reasons all too familiar this year, DEVOtional 2020 as a physical face-to-face event has been postponed until 2021. However, it's still the 20th anniversary of our event, so we plan to celebrate with a FREE online tribute Livestream event on November 14th, 2020! Details below...
***********************
We'll host a free DEVOtional 20th Anniversary Tribute Event LIVE on YouTube on Nov. 14th. Hosted on the YouTube page of Michael Pilmer/Devo-Obsesso, original co-founder of the event 20 years ago.

Being a tribute to our DEVOtional event, we'll be reminiscing past gatherings, sharing stories with our fellow DEVOtees and discussing our personal experiences as DEVO fans. We'll also have a few VERY SPECIAL GUESTS - LISTED BELOW! On top of that, we'll raffle off a number of highly devolved items...So don't miss it!
(RAFFLE TIX SALES NOW CLOSED!)

BTW: Our pals THE FANTASTIC PLASTICS will be performing an hour of DEVO music on their Twitch channel on Friday Nov. 13th at 10pm EST, the night before our DEVOtional 20th Anniversary Tribute Stream!

Also, don't forget that the 5KDEVO race is virtual and worldwide this year!

FYI: The Beachland Ballroom, where we've held most of our events, is also celebrating their 20th year. We paid them in advance & in full for our 2020 event because we knew they were in need. Because they are obviously still in need, we hope to still pay them in full for the postponed 2020 event as a benefit to them. (See options listed in FAQ below)

Duty Now!
Nick Ciasullo & Michael Pilmer
DEVOtional Army Principals
20th Anniversary Tribute SPECIAL GUESTS!

PLUS 2 LAST MINUTE ADDITIONS! >>>>>

Bob 1 Mothersbaugh

Josh 2 Hager


Presenting our VERY special guests who will be with us for the 20th Anniversary Tribute livestream event on Nov. 14th / 6-10pm EST!

And don't be surprised if other special guests pop in at the last minute!
=========
FAQ
Q: What happens to my ticket for DEVOtional 2020?
A: All tickets have been converted to DEVOtional 2021, happening on July 23rd & 24th.
-----------------------
Q: What if I'm not sure if I can go? Can I have a refund?
A: Absolutely! If you are unable to attend, the following options are available to you:
-----------------------
1. Full Refund*
2. Donate – Instruct us to donate the full (or partial) value of your ticket to The Beachland Ballroom. Like all restaurants, bars, and concert halls, they are fighting to keep the doors open.
3. Donate – Make a full or partial donation to DEVOtional 2021. As mentioned above, funds were laid out for 2020. Help keep DEVOtional from running into the red for 2021.
4. Convert them into raffle tickets! A few raffle items will be offered LIVE on 11/14. Use your ticket money to win prizes instead! $5 per ticket.
*If you were one of the first 100 ticket buyers who would've received the ltd edition 7" vinyl single OR bought tickets 101-150 receiving the button, then that single (or button) will be passed onto the next consecutive ticket buyer. If you don't opt for a refund, you still receive your gift mailed to your home FREE if in the continental US.
-----------------------
Q: When do I have to decide how to use my ticket?
A: If you will be choosing options 1-4 mentioned above, you must do so by October 30. All tickets will automatically be converted to the 2021 DEVOtional on October 31.
Q: When will the DEVOtional 20th Anniversary General Boy T-Shirts be shipped?
A: Very soon after the Nov. 14th tribute event. Tees will still be on sale during the livestream and will be printed the following week.

DEVOtional 2021 is booked for July 23/24!
2021 TICKETS FOR SALE IN JAN. 2021
Facebook Event Page
The First 100 ticket buyers for 2020 got this limited edition

FREE GIFT

!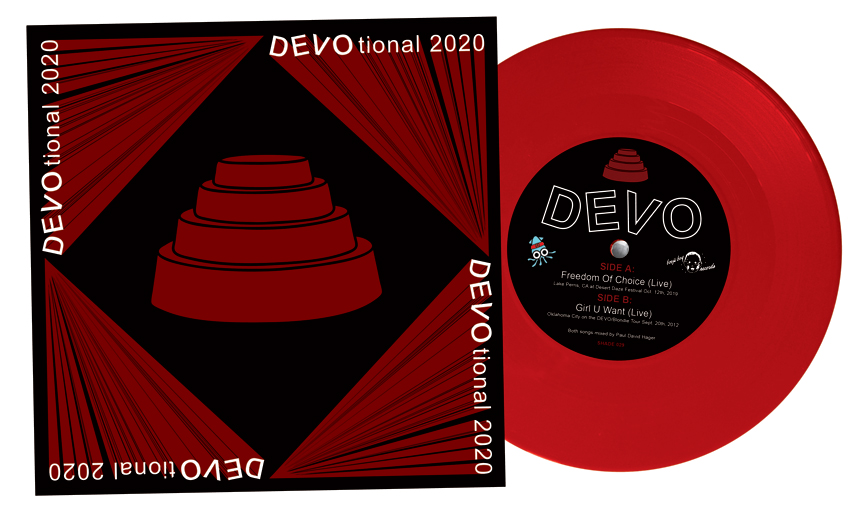 FORMOSA PUNK RECORDS in Japan PRESENTS:



7" Red Vinyl Single featuring 2 live DEVO songs recorded in 2012 & 2019.



Side A: FREEDOM OF CHOICE (Live in CA at Desert Daze Festival 2019)
Side B: GIRL U WANT (Live in Oklahoma City in 2012)

Hand-numbered screen printed covers.


Only 100 Red Vinyl versions will be pressed!


Those will be given to the 1st 100 ticket buyers at the event.

More details to be announced at DEVOtional 20th Anniversary Tribute Event (Nov. 14th, 2020).

(Thanks to Screen Arts Florida for printing the 7" covers!)
It's been 2 decades since the first DEVOtional event way back in the year 2000. A room of a few dozen people who gathered to discuss & wallow in their common love of the band DEVO. That number has increased to hundreds of people. This year we celebrate all this via a YouTube livestream gathering on Nov. 14th.

Our official 20th Anniversary tribute tee is in honor of our very first special guest, Robert Mothersbaugh Sr. aka

General Boy

. He went above & beyond when he agreed to attend our small gathering of a few dozen spuds way back in 2000, and his presence added so much & made for some fond memories. Without General Boy, that very first DEVOtional wouldn't have been s
o special.
DEVOtional 20th Anniversary Tribute T-Shirts

We will NOT be able to reprint these, so pre-ordering is important to make sure you get your size!
(Shirt graphics have been revised to represent newly scheduled online tribute event)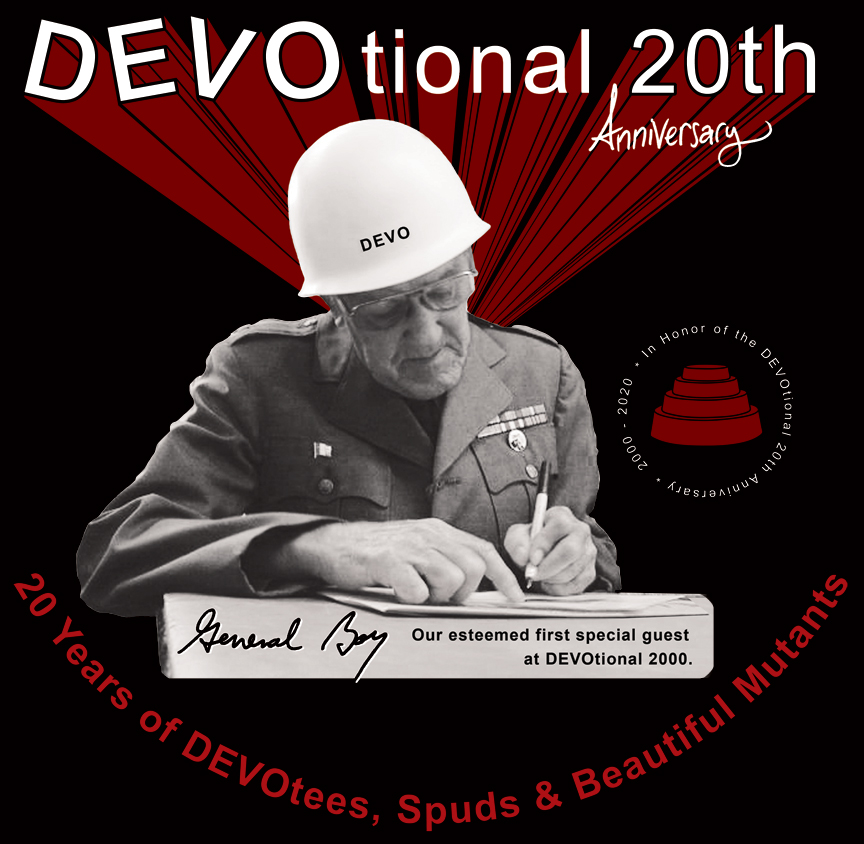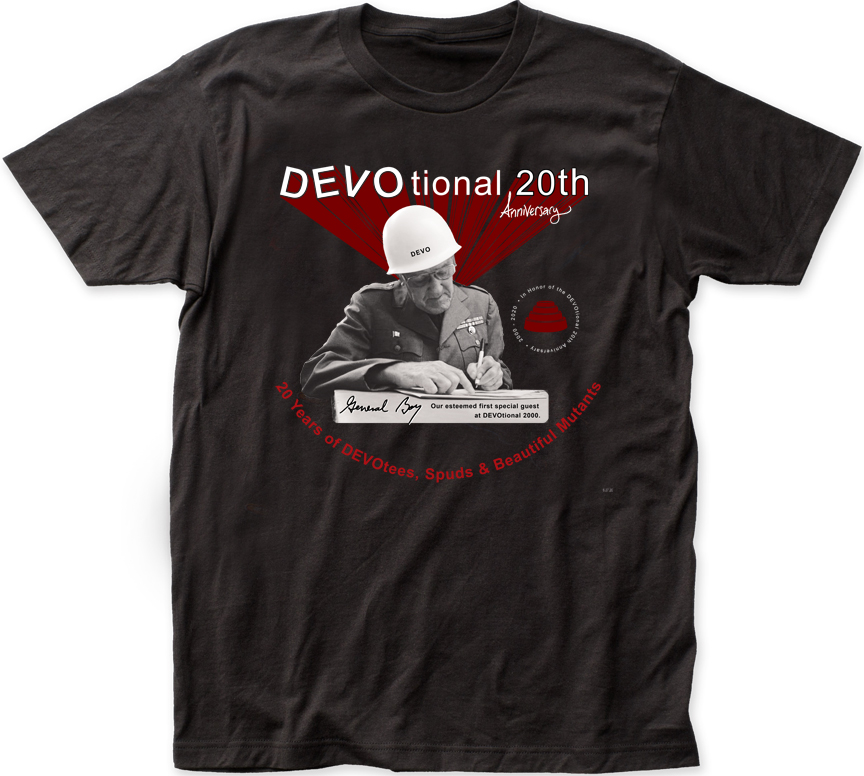 SCREENPRINTED INK ON 100% COTTON TEES
SALES ARE CLOSED FOR THIS ITEM

BIG THANKS TO OUR SPONSORS THIS YEAR: