September 2002
Mark Mothersbaugh's first solo art show in years - Eegads!

Back in October of 2001, I'd invited Mark to showcase his artwork at LUMP gallery, which is owned and operated by two friends of mine - Bill Thelen and Med Byrd. All three of us had talked for years about having Mark do a showing at the gallery, but since Mark hadn't done a solo show in almost 10 years, we never really pursued it. I guess I was feeling particularly confident the day I asked him...and he must've been having a good day, because he said he'd definitely consider it. A little less than a year later, Mark travelled to Raleigh for the show's reception on Friday, Sept.6th.
Back of postcard used to promote the LUMP gallery show: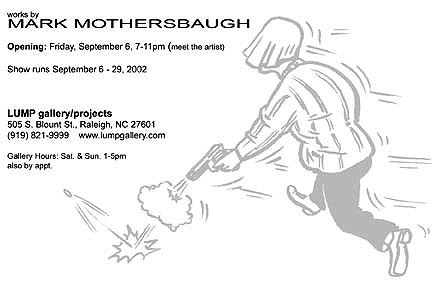 I picked Mark up at the airport on the morning of his LUMP reception. He was noticably frazzled from the redeye flight, but was in good spirits and interested in talking about the show. It was too early for him to check into his hotel, so we went to my house to work on a price/title sheet for the show.

Upon entering my small, obsessively decorated house, I promptly directed him to the cove of DEVO, displayed with care.

I asked if I could get a photo of him posing within the shrine, like he's part of the collection. He responded by pulling records out of the neatly displayed pile in rapid-fire time and said, "You've gotta take a picture of me doing this!". While a couple 12"s fell to the floor, I grabbed my camera and snapped a photo. (Photo shown in the right column, 2nd picture down).

Then Mark did actually pose on the shrine -by climbing up onto the already unstable shelves and perching in the corner with his back towards me. As I backed up to get a photo of his strange pose, he dropped his pants like a true Subgenius.
(tastefully censored photo shown in right column, 3rd picture down).

Many folks showed up from all over the country, including a member of Akron's own Rubber City Rebels, and orginial owner of The Crypt (a club Devo played at in Ohio during the very early days). Fans from Florida, Kentucky, Massachusetts, and NY all made the trip, and I think they all left satisfied.

To top it all off, LUMP gallery sold out of every single Mark print within the first 2 days of the month-long show.

Mark really made a lot of folks happy with his visit, and he went beyond the call of duty.

If you missed this show - DON'T FRET! Mark was *very* inspired by the LUMP show and all the folks he met during his trip to NC.

SEE ARTICLE IN The SPECATOR on Mark's LUMP show.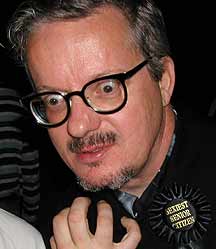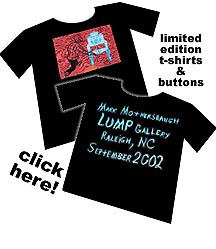 World's Sexiest Senior Citizen fights to regain control of his praying hand.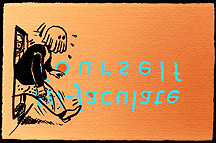 Front of postcard used to promote
Mark's LUMP gallery show.