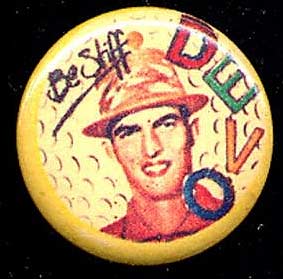 Be Stiff UK pinback (full color)

Pinback/badge featuring Chi-Chi face from Are We Not Men? LP cover. Probably made in the UK - late 70's/early 80's.

I have other full color Be Stiff cover art pins that are almost exactly like this. However, the DEVO text on this one is oddly cut to fit the circle. The others have the DEVO text running straight down.


------------------------------------------
This item has eluded me!
Please contact me if you have this item to sell/trade.