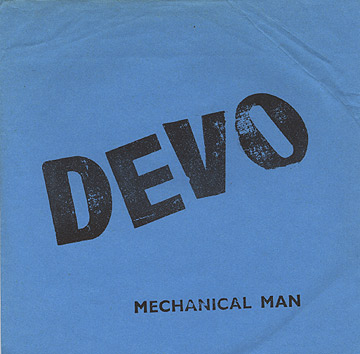 Mechanical Man
Blue Cover - Not Numbered

Side A: 1. Mechanical Man, 2. Blockhead
Side B: 1. Blackout 2. Auto-modown

Catalog #: NICE 1
Label: Elevator Records
Release Date: 1978
Country: UK

Release of Devo's early demos on 7". Stamped cover on various colors of paper. Some copies are numbered on the back cover (not this one). It was included in some of the first UK Devo LPs as a promo from Virgin. Also rumoured to be only 1000 pressed, but I've seen a lot of these around.

This particular pressing has a center label with a perferated big center hole, unpunched - different from my other versions of this 7", which have the standard small hole in the center label.

Click to see center label.