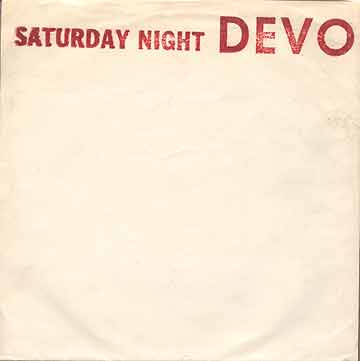 Saturday Night DEVO (bootleg)

Side A: Satisfaction Side B: Joko Homo (sic)

Catalog #: P-7818
Label: Pin Head Records
Release Date: 1978?
Country: USA?

Bootleg of Devo's appearance on Saturday Night Live Oct 14th, 1978. Stamped front cover.

There is another version of this 7" with a different cover. Here is some info on the alternate cover version that was emailed to me:

I came upon your website while trying to find a photo image of the bootleg 45 "Devo Live on Saturday Night Live. I can't locate you a copy of the record, as I don't even have a copy myself. But I can give you some background on it - actually, you'll be the first, besides myself, to know its origins.

Back in '78 I was working for Bomp! Records in North Hollywood, CA. We were the first, and best known Punk / New Wave record label, distribution company, record store, and rock magazine in the states. We handled distribution for a lot of early unsigned bands who put out their own records (B52s, Romantics, Weirdos, Shoes, 20/20, Devo, etc.).

The scene was still very underground, and a lot of local collectors and fanzine people were putting out unauthorized product. I was dealing in rare records at the Hollywood swap meet, in the Capitol Records parking lot, and could see what kind of money was being made by these guys.

I figured whoever came first with a recording of the Devo SNL performance, stood to make a good profit. I recorded the performance on a home cassette machine, and the next day contacted a record industry friend of mine, who brought my tape to a record mastering plant in LA that his label used. Our goal was to get it pressed in time for the Capitol Records swap meet in November, a mere fourteen days after the SNL broadcast. The information for the labels was sent to the printer, and the record plant made a "mother" for the recording, from which vinyl copies were made.

A couple days before the swap meet, the pressing plant was able to give us a quick run of one hundred copies. The labels hadn't arrived there yet, so if memory serves me right, the record has only a blank label on it. I took a promo picture used for Devo's picture sleeve "Satisfaction" (we had tons of them at the Bomp! offices), and threw the graphics together. It looked cheesy, but then so did everything else in the world of 1977-78 punk / new wave. We ran the artwork off on a xerox machine, and glued the copies to the record sleeves by hand.

I brought them down to the Capitol Records meet, and all 100 copies sold within an hour at $5.00 a pop (in 1978 dollars!). The following week, my buddy told me the pressing plant had contacted him. The labels had arrived at the pressing plant, and somebody there realized they had been pressing Devo bootlegs. The "fan club" reference was used on the labels, and the sleeve, to throw them off, but I guess they saw right through it. They destroyed the mother recording, and refused to press any more records, and we were very fortunate they didn't get nasty about it, and turn us in. But that's the kind of dumb stuff we did back then, and that's the story behind the Devo Live on SNL bootleg.

Incidently, The label name for the SNL record was Poot Records (Poot being a sexual slang term), the matrix # was LEG 101 - thus, making it a "Poot-Leg". Ah well, it seemed amusing at the time.
---
Front cover pictured to the left.
Click to see center label.