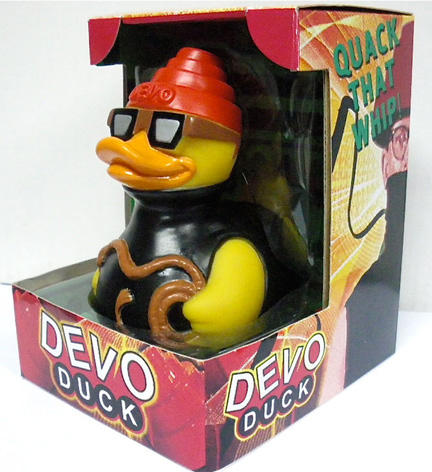 DEVO Duck by Celebriducks

Official DEVO, Inc product - A Devolved Rubber Duck! By Celebriducks 2013.

This is the first edition with "FIRST EDITION" printed on bottom of duck.

From the DEVO web site:

DEVO has been reaching a much younger audience in recent years, especially since the appearance of Mark Mothersbaugh & DEVO on the successful childrens' show, YO GABBA GABBA. We've been getting requests for DEVO items made specifically with children, so we designed this item with young spuds in mind. What better way to introduce fledgling DEVOtees to DEVO than with this classic childhood favorite, the Rubber Duck. Dressed in DEVO gear circa their "Freedom Of Choice" era, specifically from the "Whip It" video, complete with Energy Dome, 3D Glasses, turtle neck tee, and whip!