*Note: The band DEVO has never performed at our fan event, and there are no plans for that to happen, but DEVO band members typically show up to speak & perform with other bands 95% of the time since we started way back in the year 2000.
DEVOtional 2023 will be here SOON!

9/22 & 9/23!



UPDATES!!

We'll be

LIVESTREAMING both days

, Sept. 22 & 23, at Michael Pilmer (Devo-Obsesso)'s channel: YouTube.com/mpilmer. Don't Miss It!

This year's graphics celebrate DEVO's

50th anniversary

, (Hence the gold Energy Domes & scooters) and also pay tribute to their SHOUT album! (DEVOtionals have typically celebrated an album per year in chronological order, and last year we used "Oh, No! It's DEVO" graphics).

COME CELEBRATE WITH US

!

Like last year, we're using the big ballroom at The Beachland for

BOTH days

of the event. For many years we used the smaller tavern room for Friday, and the large ballroom for Saturday, but now DEVOtional is a

larger beast

demanding

more room

.

We're happy to announce two special guests this year: DJ LANCE ROCK of Yo Gabba Gabba! fame, and

Del Jae

of

FUTURISMO Records

, who has released more than a few DEVO albums in recent years!

Del will be talking about the recently released "Art DEVO" box set he released on Futurismo, and will be supplying the event with highly DEVOlved

FREE DOOR PRIZES

for the 1st 100 spuds through the door on Saturday! (Exactly what it is will remain a secret till then!)

Speaking of door prizes,

Rhino Records

, who recently announced the DEVO 50 Anniversary Box Set, is providing free

DEVOtional 2023 tote bags

to the first 100 spuds through the door on Saturday!

Lance will be talking about his work with

DEVO

on Yo Gabba Gabba!, as well as spinning some of his favorite 80's synth-pop records for us, so be ready for a HIGHLY DEVOLVED & AWESOME TIME! Also, as a special Post-DEVOtional Decompress Social, Lance will be DJ'ing on

Sunday, Sept. 24th

at SuperElectric Pinball Parlor in Cleveland! No cover! (Doors open at 12pm. DJ Lance set time TBA)

Scroll down to see a peek at the

RAFFLE PRIZES THIS YEAR

! And dig this EXCLUSIVE "DEVOted" album - Available for sale

ONLY at DEVOtional 2023

!

We've also got some

highly devolved bands

confirmed.



SCHEDULE:



FRI 9/22:


-

6pm:

Doors open




-

7pm: Devoid (from Baltimore, MD)


-

7:45pm:

Bamboo Bimbos

(from Planet Earth)


-

8:30pm: Malcolm Tent (from Danbury, CT)


-

9:30pm:

Fantastic Plastics

(from NYC)


SAT 9/23:
- 2pm: Doors open
- 3pm:

Johnny Spud

(from North Dakota)


-

4pm: Muzzle

w/ Matt Lindsay

(from O-hi-O)


-

5pm:

DJ Lance Rock of Yo Gabba Gabba Q&A




-

6pm:

Delaney Jae of Futurismo Q&A


- 6:30pm: Massive Hotdog Recall (from Kent, OH)


-

7:30pm:

DEVOtional 2023 Raffle!




-

8:30pm: Fight Milk (from Redmond, WA)


-

9:30pm: Detention (from Akron, OH)

SUN 9/24:

Bonus Post-DEVOtional Decompress Social

at SuperElectric Pinball Parlor in Cleveland! Starring DJ Lance Rock! (Doors Open 12 noon)

Pre-orders for the official DEVOtional 2023 EVENT T-SHIRT are now closed, but you can still

PICK ONE UP AT THE EVENT

while supplies last! Scroll down to see image of the highly devolved DEVOtional 2023 event T-Shirt.

We had a

SOLD OUT

event last year for the 1st time ever and had to turn a few folks away at the door, which we felt horrible about, so

get your tix now

!

We've already sold the

1st 100 tickets

, the purchasers of which have received a

limited edition gift

over the past few years. This year, Oxford Pennant, is providing 100

DEVOtional 2023 screen printed pennants

to those lucky first 100 ticket customers! Get them at the event when you pick up your tickets. (Scroll down to see pennant).

See you in O-hi-o soon!

- Michael Pilmer / Nick Ciasullo


-

DEVOtional organizers
Advance Ticket Sales Closed

PLEASE BUY TIX AT DOOR!

***********************
DEVOtional 2023

Weekend:



Fri. 22 / 6pm until late! - Beachland Ballroom
Sat. 23 / 2pm until late! - Beachland Ballroom

Sun. 24 / 12pm Post-DEVOtional Decompress w/ DJ Lance @SuperElectric
SPECIAL GUESTS!


POSSIBLY MORE TBA! We're working on it...!

DEL JAE: FUTURISMO Records

ANOTHER GUEST TBA???
Image below of Ltd. Edition "DEVOted" Album
Available for sale ONLY at DEVOtional 2023!
CLICK TO SEE VIDEO!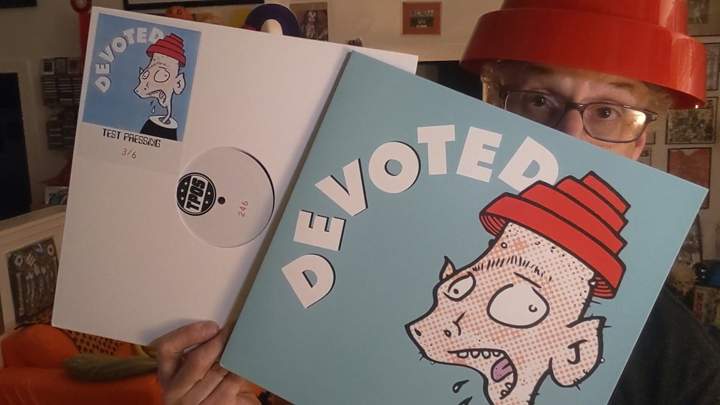 HERE'S A PEEK AT SOME
RAFFLE PRIZES THIS YEAR!
To be given away on Saturday SEPT 23rd!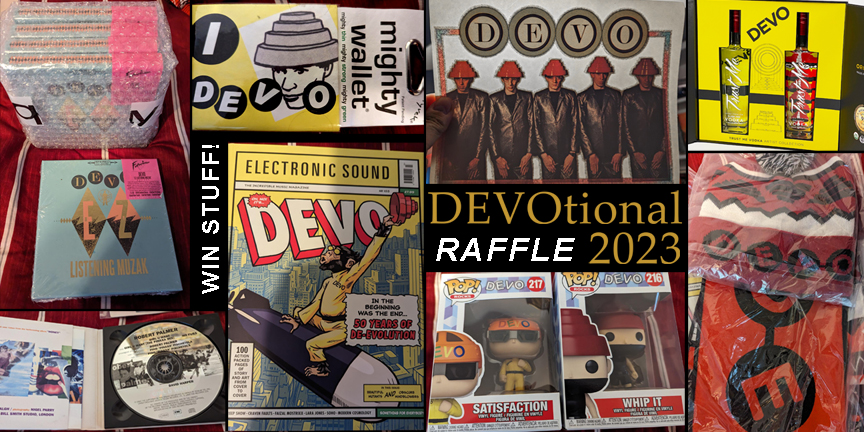 Pictured above: A peek at SOME of the Raffle Items for DEVOtional 2023!
Here's a list of the pictured items & more:

2 pair vintage DEVO bar code necklaces
A pair of DEVO energy dome earrings
DEVO Tyvek wallet
DEVO 80s Cruise Life vest T-shirt - 1 ea: Med, Large, XL, 2XL
DEVO 80s Cruise Life Vest poster
DEVO winter scarf and hat
DEVO Electronic Sound mag w/ 7" single
5 copies of 'DEVO EZ Listening Muzak' Futurismo CD
Robt Palmer Girl U Want CD single
donated by Jim Dolan

Jerkin Back N Forth / Mecha Mania Boy single

donated by Jim Dolan


1 ea: DEVO Funko Pop Figures: #216 & #217
DEVO Freedom Of Choice Vintage 1980 iron on transfer
DEVO Potato Vodka set

The
First 100 ticket buyers will receive a limited edition FREE GIFT provided by OXFORD PENNANT!




The first 100 tickets sold long ago, but here's what the special item is

:



LTD EDITION DEVOtional 2023 Pennant
DEVOtional 2023 T-Shirts
SCREEN PRINTED METALLIC GOLD & WHITE INK ON 100% COTTON TEES
(Last day to pre-order is Sept. 1st, 2023)
Pre-orders are closed. Contact us for available stock.
(Actual photo of sample print tee below)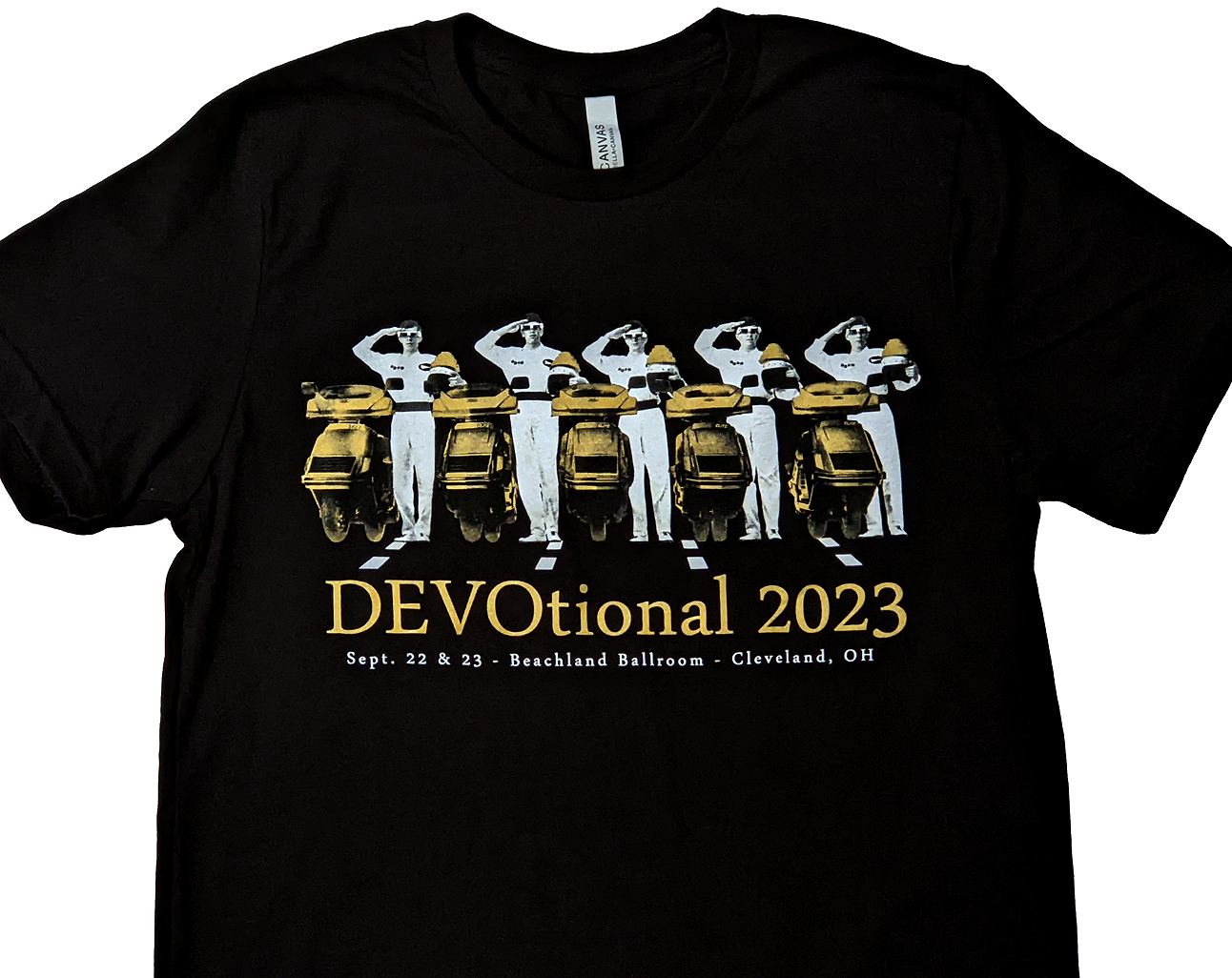 PICK UP AT EVENT:



$25-$35 ea.

SHIPPED IN USA:



$30-$40 ea.

SHIPPED OUTSIDE USA:



PLEASE CONTACT ME TO ORDER OUTSIDE USA.

SEND FULL MAILING ADDRESS & PHONE NUMBER. I WILL REPLY WITH TOTAL COST INCLUDING SHIPPING BASED ON YOUR ADDRESS.


TEES WILL SHIP SOON AFTER THE EVENT
***********************
BIG THANKS TO OUR 2023 SPONSORS:

CLICK HERE
to see our
DEVOtional 2022 Event Report