----Oh, YES! It was DEVOtional 2022! There's no question that it was our biggest & best EVER in the 20+ years since the first of it's kind way back in 2000. This year's record-breaking ticket sales meant we upgraded to using the main ballroom at The Beachland for BOTH nights, when typically our Friday night festivities are held in the much smaller tavern room portion of the venue.

---- What was it about this year that made DEVOtional 2022 so damn special? The short answer: MANY things. Many people who came together to make this event what it is, both those who plan & coordinate, and those who SIMPLY PARTICIPATE to show support. Our advance ticket sales were much higher than usual, and we officially sold out both nights for the first time ever. Of course, there were also a few HIGHLY improbable blessings that miraculously fell into place.

----Nick Ciasullo & I both work fairly constantly on this event, starting a full year in advance to make it what it is; a quality gathering of DEVOtees, spuds & beautiful mutants. A space for nerds, geeks & weirdos. A place for those who are very familiar with feeling out of place anywhere else. A place where you can talk to people about that band called DEVO...and fully immerse yourself in it. Devolve on purpose!

----We see the happy it brings to many of you... and we feel it, too. Each year we try to do something new, something a little bigger to make it worth the time, dedication & investment we all put into it.

----After we got word that our friends New Devolution (from Santiago, Chile) were coming to perform at DEVOtional (after trying to get them here for the past 2 or 3 years), we knew this year was going to be special. Then we got word that not only was Gerald Casale of DEVO going to attend (as he has for many DEVOtionals), he was also bringing Steve Bartek of OINGO BOINGO (who played on Casale's latest solo releases). In fact, they would debut Casale's new video & single to a room full of worthy spuds. At that point we knew it was going to be a REALLY special event. What, there's more? Yes...! Another guest we'd been trying to get for years finally dove into his first DEVOtional - Michael Schwartz aka Rod "The Man" Rooter! A well-known character brought to life in DEVO's videos new & old. We couldn't believe our luck! Our special guests list was on fire. Nick and I felt we had a super strong event with those confirmations alone, and were prepared for yet another year of slightly higher attendence numbers, as has been the case for the past few years. The dates were set and we were psyched to tell everyone!

----THEN IT HAPPENED - I was talking with Mark Mothersbaugh via phone about something unrelated to the event and I mentioned that we'd just confirmed dates for the upcoming DEVOtional. He blurted out..."Hey, maybe I'll come to that this year!". To which I replied, "Mark, don't fuck with me. I'm going to hold you to that! Let me know when I can announce!" - I figured that would be it, and I wouldn't hear about it again. He wouldn't REALLY end up going to our DEVOtional, would he? Improbable at best.

----It only took a few days for him to get back to me saying YES, HE WILL BE THERE! I gave exact dates & details to his staff at Mutato, then immediately called Nick Ciasullo with the good news. Mark was going to attend his first DEVOtional since the annual event began over 20 years ago! THEN WE KNEW this year was definitely going to be....umm...DIFFERENT. Much different than any we'd done in the past. Good different? Bad different? Chaos? We weren't sure. But as we got closer to the first day of the event with ticket sales still going strong, I was definitely feeling SOMETHING. Was I excited...or stressed out? I really couldn't say, but I knew I was as ready as I'd ever be for whatever was going to happen.

----But, of course...It all unfolded into what we all needed and hoped for - An exchange of unconditional love for fellow mutants, a passion for music... and dedication to having A DAMN GOOD TIME. The guests, the bands, the first-time attendees and longtime DEVOtional veterans. They would come together to experience something so special...so highly devolved. Many who were there posted the same sentiments on social media following their experience at DEVOtional 2022: "That was the best weekend of my life!"

----Now we present you a simple, straight-forward selection of stories, photos and videos ... as seen through the eyes of attendees as well as the organizers. See what happens before, during & after the event! Start with the top left thumbnail below, then click through the gallery via arrows on each photo page. All content is in chronological order so that you can re-live your DEVOtional weekend, or experience it vicariously via the internet. Each photo page includes arrows leading foward & backward through the gallery. Enjoy!

Scroll down this page for more text info for each day of the event


Pre-event & Thursday Motel Party photos:

Video
Slideshow: Spuds In Suds
-
DEVOtional Motel Party
Thurs. Sept. 15th, 2022
Video by Michael Pilmer/Devo-Obsesso
.
Photos by
Tim Nolan

----------------------------------------------------------------------------------------
Friday Sept. 16th @ Beachland Ballroom
----Since we would be in the large ballroom for both Friday & Saturday, we were able to get in the venue around 2pm on Friday to set up all the DEVOtional merch and raffle table. Setting it all up that afternoon was much more relaxed than rushing to set up everything on Saturday morning. The luxury of being able to leave it all set up for the next day was glorious!

----Although we let Mark Mothersbaugh know it wasn't mandatory for him to attend on Friday, he was intent on experiencing DEVOtional 2022 to the fullest and arrived around 3pm, long before doors opened at 6. Me, Nick, Tim, and Roxxi were all setting up tables & merch. Upon entering the venue, Mark completely surprised me with a running head-butt to my torso...knocking me into a wall behind the merch booth. "Hi, Mark! Nice to see ya! (Ouch)"

----After popping out for a quick lunch, Mark soon returned to the venue and began socializing and continued doing so until the wee hours. I loved seeing him have SO MUCH fun, and everyone was delighted with his down-to-earth, friendly conversation & playfullness. You can see the schedule of Friday's events as posted on the DEVOtional 2022 promo page. The positive energy flying around the ballroom Friday night was INTENSE and so very gratifying. Could we have this much fun AGAIN on Saturday at THE MAIN EVENT??

You'll find much more about what DEVOtional 2022 was like as you navigate thru the photos below.
Click imagery for larger view, more info, and to view
in chronological order.
Devo-Obsesso's DEVOtional 2022 Video Scrapbook
Thu. Sept. 15t
h
- Mon. Sept. 19th
Video by Michael Pilmer/Devo-Obsesso & Roxxi Dott
Video: Morgan Pre-Cum "Fraulein" at DEVOtional 2022
Fri. Sept. 16t
h -
Beachland Ballroom - Cleveland
Video by Michael Pilmer/Devo-Obsesso
Video: WEIRD PAUL "Can U Take It?" at DEVOtional 2022
Fri. Sept. 16t
h -
Beachland Ballroom - Cleveland
Video by Michael Pilmer/Devo-Obsesso
-------------------------------------------------------------------------------------
Saturday
Sept. 17th
@ Beachland Ballroom
----I had plans with Roxxi & Tim to do a few things before we went to the venue for the day. Because we'd already set up merch & raffle tables the day before, we had time to get breakfast, then hit a few thrift shops before starting DEVOtional work. We saw Mark Mothersbaugh and David Blau (DEVO attorney) in the hotel lobby, and it looked like they both successfully survived Friday's fun! After a brief chat, we left them to their coffee recovery and headed out to start our day.

----We eventually arrived at the Beachland around noon to prepare for the 2pm start of our main event. Spuds were dutifully lining up outside in advance, which had never really happened before. The door prizes we provided on both nights certainly helped get people there in advance! It was SO NICE that much of the setup was still in place from the night before, but that didn't mean we got to relax. This year, being the biggest & best DEVOtional ever, there was something new to deal with; the set up of a pro-mixed, multi-camera, 8.5 hour YouTube livestream of the entire day/night! (Which you can still see HERE).

----The large ballroom filled up quickly soon after doors opened at 2pm. Yes, the bands played...they were fantastic. Our all-star jam-packed list of special guests provided the room with laughs and entertainment. The raffle was a huge success as many spuds were going home with a wide variety of prizes. You can see the schedule of Saturday's events as posted on the DEVOtional 2022 promo page. More stories from this fantastic weekend can be found via thumbnails below.

Click imagery below for larger view, more info, and to view in chronological order.

Be sure to check out the videos embedded on this main page after you navigate thru the pics!



Video: DEVOtional 2022 Main Event LIVESTREAM! 8.5 Hours!
Sat. Sept. 17th Beachland Ballroom
Thanks to Ryan for footage & production!


Video: Massive Hotdog Recall
w/ Mark Mothersbaugh: Gut Feeling (DEVO)
Sat. Sept. 17th Beachland Ballroom
Video by Smash Machine


Video: FIGHT MILK "Blow Up" at DEVOtional 2022
Sat. Sept. 17th - Beachland Ballroom - Cleveland
Video by Fred Hollins



Video: DETENTION: Girl U Want (DEVO)
Sat. Sept. 17th Beachland Ballroom
Video by Mark Nowak



Video: DETENTION: Be Stiff (DEVO)
Sat. Sept. 17th Beachland Ballroom
Video by Tim Nolan



Video: DETENTION: Little Girls (Oingo Boingo)
Sat. Sept. 17th Beachland Ballroom
Video by Tim Nolan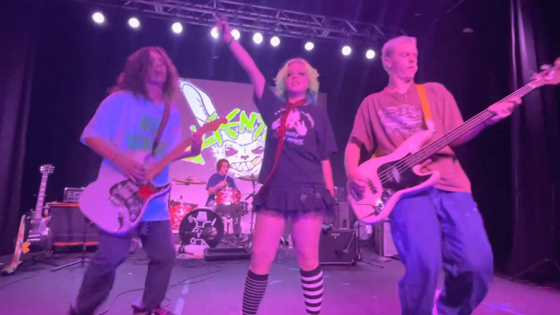 Sunday
Sept. 18th: Post-DEVOtional Activities!
----Sadly we weren't able to schedule a 5KDEVO Race this year, which typically happens early in the morning on Sunday, the day after our main event. But on the bright side, no need for early rising the next morning! No surprise that it's not always easy making the 5K in time after a couple days of DEVOtional activities. So this year I was finally able to explore Cleveland and surrounding areas a bit more on Sunday, and eventually settled into some pinball & bowling for the evening. We got word that New Devolution was able to perform a couple songs live at the Rock & Roll Hall of Fame on Sunday, too!

----My word, this year was such GREAT FUN! Feels like family 'cuz I think it is. And yes, the post-DEVOtional blues ARE REAL, as many of you experience that regulary after returning back to "real life."
Hang in there! Less than a year till the next one! (Scroll down for 2023 dates!)

Click imagery for larger view & more info in chronological order.


Video: NEW DEVOLUTION
Live at Rock & Roll Hall Of Fame
Sun. Sept. 18th Cleveland, OH
Video by Rob "The Ripper" Williams


--------------------------------------







Click quotes above
to see full statements from first-time guests as they reflect on their experience at DEVOtional 2022!

---We are always highly indebted to the faction of DEVOtional veterans who have been repeat attendees, special guests, performers or contributors for years and years. You are the absolute foundation of this event!

---We'd like to personally thank a few people by name for helping make this event memorable from year to year: David Kendrick, Gerald Casale, Scott Orsi & Janice Junge, Ren & Joe Provo, Malcolm Tent, Tim Nolan, Heather Wright and Robin Armstrong. Of course we also send love to The Beachland Ballroom, who has always played a huge role in making our DEVOtional events fun & successful.

---HUGE THANKS to our sponsors this year: Golden Robot Records, who really went ABOVE & BEYOND to help us offer you AMAZING records & tapes this year! And to our friends at Super7 who provided us with pin sets & announced that in Spring 2023 we'd see what they're working on with DEVO.

Also to all photographers & others who donated photos & other content.

Special thanks to Mark Mothersbaugh/Mutato Muzika, Jim Dolan & Aaron Williams for donating plenty of items to our raffle this year. The continued success of the DEVOtional raffle enables us to make future events even better.

Next year's DEVOtional is already confirmed:
September 22nd & 23rd, 2023

Already great guests & bands in the works! DON'T MISS IT! Seriously.


Duty Now,
-
Michael Pilmer / Devo-Obsesso
-
for DEVO, Inc.