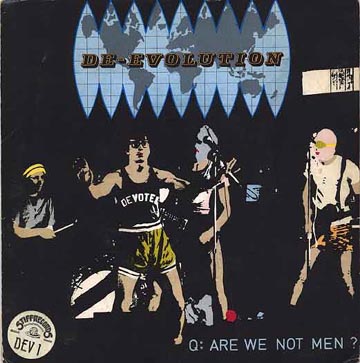 Mongoloid/Jocko Homo
UK Pressing
(Gatefold printed blue) w/ sticker on cover

Side A: Mongoloid
Side B: Jocko Homo

Catalog #: 703314
Label: Stiff
Release Date: 1977
Country: UK

UK release. The cover opens into a 3-panel gatefold printed in blue ink. (The intitial pressings were printed in black).

This version features a STIFF Records sticker on the cover - bottom left. This is actually a US-made Booji Boy edition, but with a STIFF sticker added on. STIFF imported US copies (which still had the 'little black stickers) and STIFF stickered them to quickly satisfy the UK demand until they could actually press UK editions (with the printed logo instead etc).