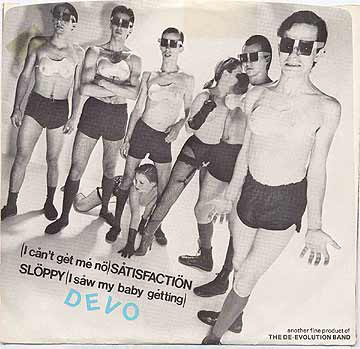 Satisfaction/Sloppy (song credit mispress)

Side A: (I can't get me no) Satisfaction
Side B: Sloppy (I saw my baby getting)

Catalog #: 72843-1
Label: Booji Boy Records/Bomp
Release Date: 1977
Country: USA

Credits misplaced on label of record: "Satisfaction" is credited to Devo, and "Sloppy" is credited to Jagger/Richard. Other versions of this release have the credits attributed to the proper songs.

---
Front cover pictured to the left.
Click to see center label with switched credits.