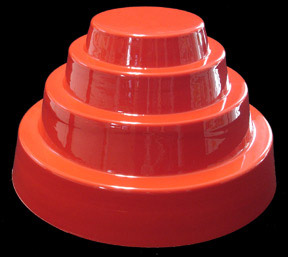 Energy Dome - Reissue #4 - 2008

Reissue made by Wayne Weedon at FDOS Design in the UK.
Released to the public in March 2008. These domes were made
as a quality upgrade to the NECA Energy Domes sold through Club DEVO since 2004. The new Domes by FDOS Design are made of strong, sturdy, red plastic...unlike the thinner, less attractive NECA domes.

The 2008 Domes made by FDOS also feature a removable thin sheath of protective clear plastic.

These are the exact Energy Domes that DEVO wears onstage.

See FDOS Design sticker on inside of dome.

SEE THE FULL STORY ON HOW THESE DOMES CAME TO BE.