Spudring Collar - from Earl Porges

Oh No, It's Devo era Club Devo catalog item. Plastic collar designed by Brent Scrivner, 1982. As worn by DEVO and sold at DEVO concerts, and via their Club DEVO mailorder catalogs.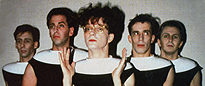 This particular collar was given to me by Earl Porges, who worked closely with Brent Scrivner in the 70s/80s. Brent gave this particular Spudring Collar to Earl when they were manufactured in 1982. It is in near perfect condition, with only a few tiny hairline splits along the thin outer rim. Embossed with Brent Scrivner credit. SEE DETAIL
Thank you for donating this item to the archives, Earl!