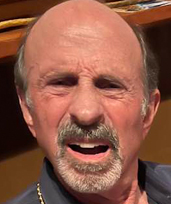 Photo: Harald O.
I came to Cleveland a day early so that on Friday I could enjoy the city and visit the Hall of Fame and the Cleveland Museum of Art.

First off, I was disappointed with the "Hall" because it had very little about DEVO and NOTHING about ME!! Of course, the second really pissed me off! Then as I was coming down the escalator there were actually some spuds wearing power domes and black t-shirts. Yikes. I even took their pictures so my friends and I could laugh at them later.
Fortunately, I was able to find some sanity in the Museum of Art after that excursion into Rock and Roll. I was so surprised to see the famous painting by George Bellows, included here, called "Stag at Sharkey's" I've included a photo I took.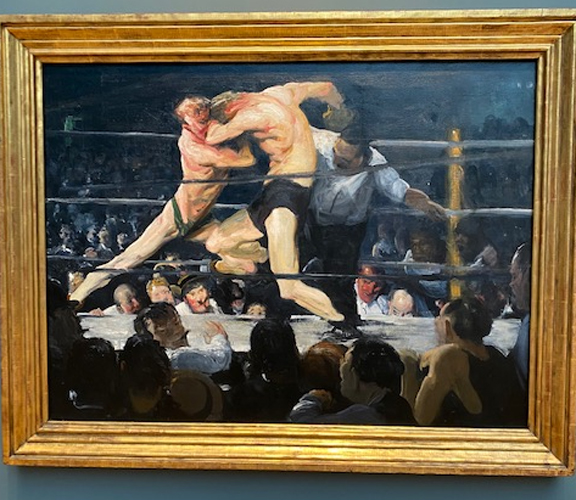 Most people don't know but this was painted by Mr Bellows not at an actual ring but at the recording studio when Mark & Jerry were warming up at a recording session a long time ago.

Finally, on Saturday, I arrived at that dive-bar joint, er, "venue," and taken downstairs to the Green Room with Steve Bartek, Jeff Winner and Jerry. I was stunned at how lovely it was. NOT!!

After I don't know how long, we went upstairs to the "venue." I gotta say, it was alive with a great energy. I realized at once that the DEVOtees were thrilled to think that maybe I, Rod Rooter, was finally going help the band. I got a big laugh out of that one. Steve and Jerry talked (forever) and finally they showed my humble film. It was great.
Then, I got a chance to look at this crowd and there were a LOT of DEVO fans. I had no idea. At first, I thought they were paid to be there but…they were honest to goodness, wonderful fans who were having a great time. We had a lovely chat, I did most of the talking, yakked a little with Jerry and Mark. It was fun. And the music wasn't half bad. Better then the originals, in some instances.
To be honest, it was great to see everyone there and we laughed, took some pics and signed autographs. I hate to admit it, but I had a great time. Maybe there is a chance, after all, for DEVO to actually make some records that will sell! It gives me hope.
So, thanks, Spuds, for a terrific time in Cleveland. But I have to say, it was great to get back to LA!

Love, Rod, The Man

Michael Schwartz / Rod Rooter